Field Training Facility (FTF)
Adopted by @zer0Kerbal with continued support from the community.

---
This mod provides a training system (school) for your kerbalnauts by adding a Field Training Facility into all science laboratories.
The Field Training Facility provides a training method that consumes electric charge over time to get a kerbal experience(stars).
Cabin notes:
You can tweak values by editing the part.cfg or using a ModuleManager patch.
This module can be added to other crewed parts directly or using a ModuleManager patch.
The code currently only works with the first eight kerbals in a part.
---

If you are in a hurry and just want to 'download' experience into your kerbalnauts then the Field Training Lab will be the answer for you. The Field Training Lab (FTL) consumes Science and Electric Charge in order to train (school) your kerbalnauts.
---
And you can have both installed
Now then, someone like me will want to use both. What happens?

The longer you train with FTF, the less science it costs to level immediately using the FTL.
For example - Just using FTL, Level 4 -> Level 5 consumes 640p of Science point. But Level 4(50% with FTF) -> Level 5 consumes just 320p of science point. If 90% with FTF? Just pay 64p of science point or wait some more days. you can get level 5 kerbalnaut.
More training means less science points needed, linearly.
These two addons can cooperate, If you want one thing, you can install just one mod. If you install both, they will cooperate and your kerbals profit!
---
Installation Directions:
Changelog Summary
See ChangeLog for full details of mod changes
---
Dependencies
Recomends
Suggests
Supports
Conflicts
---
red box below is a link to forum post on how to get support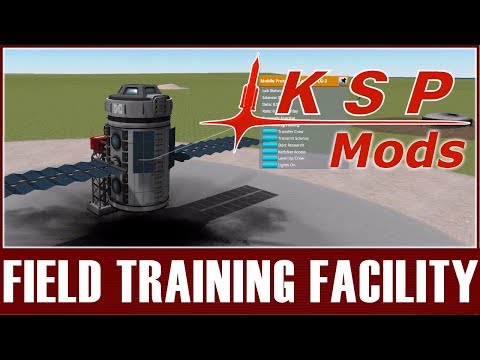 License
aka Legal Mumbo Jumbo
Source: GitHub
License:

All bundled mods are distributed under their own licenses
All art assets (textures, models, animations) are distributed under their own licenses
Original
Author: @EFour
Thread
Download
Source: GitHub
License:

v1.0.3. original: 11 Aug 2018 0K updated: 21 Mar 2020 zed'K
[^1]: Be Kind: Lithobrake, not jakebrake! Keep your Module Manager up to date
[^2]: KSP Wiki: Experience