DaMichel's AeroRadial
A continuation of DaMichel's Aero RTG Pack
originally named Radial Aerodynamic RTG

An electrical parts mod adding two streamlined radially attached parts: one RTG and one Fuel Cell.
Author
Adopted for curation by zer0Kerbal. Originally created by DaMichel.
Radial Aerodynamic RTG, because [DaMichel] could. Has much lower drag in FAR than stock RTG due to not having attach nodes.
Contains two radial parts:
PB-NUK: A Aerodynamic Radioisotope Thermoelectric Generator and contains a small battery
PB-ZAP : A Radial Aerodynamic Fuel Cell Generator (LF+IA) and contains a small battery
---
Hero Images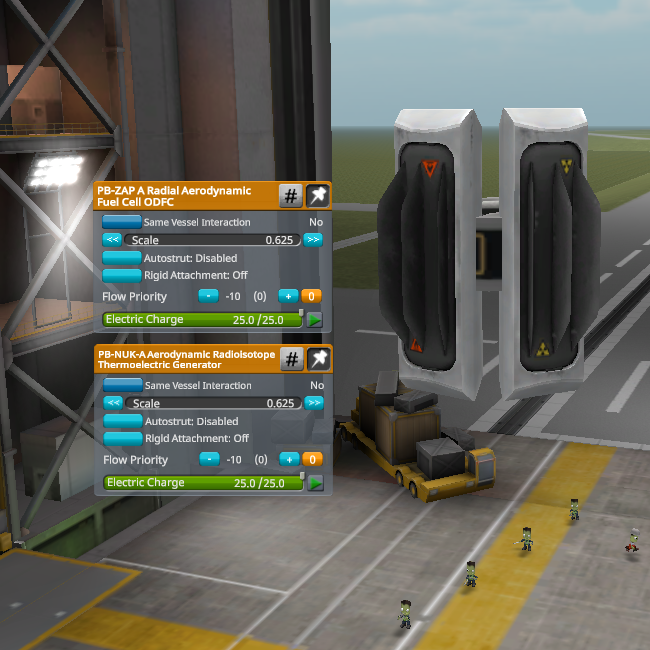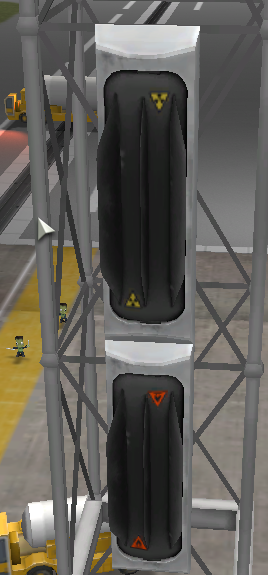 ---
Installation Directions
Changelog Summary
See ChangeLog for full details of mod changes
---
Requires
Depends
Recomends
Suggests
Supports
Tags
mod,DaMichel,zer0Kerbal,parts,generator,fuelcell,radial,
Replaces
Conflicts
---
License
License: CC BY-NC-SA 3.0
Attribution-NonCommercial-ShareAlike (CC BY-NC-SA) - All bundled mods are distributed under their own licenses
- All art assets (textures, models, animations) are distributed under their own licenses

Permission granted by original author:
Source: https://forum.kerbalspaceprogram.com/index.php?/topic/55842-**) License: Content originally created by DaMichel
Licensed under CC-BY-SA-3.0 (Attribution, Share Alike). Original: Thread:
Source/License: Source and license are included in the zip.)
v1.1.0.0 original: 11 Aug 2018 zed'K | updated: 17 Feb 2020 zed'K

Version 1.1.0.1 for Kerbal Space Program 1.8.1
Released on 2020-02-24
Version 1.1.0.1 - Spit'n'Polish
thank you to BenjaminCronin for pointed out decorative right brace in changelogs. wite-out applied.
Also dangling VERSION. superglue applied.
added attach node to the back (rear) of the parts
updated the DM-RFC texture.
RTG: adjusted cost/entryCost from 34950/58000 to 20000/50000
RTG: adjusted TechRequired from experimentalElectrics to largeElectrics
removed tags.cfg (redundant patch since tags now in localization)
updated product hero shots
created SpaceDock header
---
Kerbal Space Program 1.8.1

Version 1.1.0.0 for Kerbal Space Program 1.8.1
Released on 2020-02-17
Version 1.1.0.0 - Fresh Coat of Paint: AeroRadial
adopted for curation by zer0Kerbal
for Kerbal Space Program (KSP) 1.9 (might work for earlier)
converted to use Localization - translations welcomed through GitHub Push Request
updated license to CC BY-NC-SA 3.0
file structure and modernization
added Kerbal Changelog
added Readme
created github repo
created SpaceDock entry
created CKAN entry
created Curseforge entry
created Forum post
created .json
modernized part.cfg
added DM-RFC (Radial Fuel Cell) - which is an air breathing, liquid fuel powered generator producing 1.5 EC/s
added ODFC patch
created DM-RFC texture
many little changes to patches/parts.
---
Kerbal Space Program 1.8.1

Stats for DaMichel's AeroRadial (DAR)
Downloads over time
Downloads per version
New followers per day
Top Referrers
Export Raw Stats
Raw stats are from the beginning of time until now. Each follower and download entry represents one hour of data. Uneventful hours are omitted.