KerbGuise Experimental engineering (KGEx)
Brings you:
SimpleLogistics! (SLOG!)
A simple addon for sharing resources between vessels within physics range
---
Cabin notes:
WIP - work in progress
Am open to adding more features, great project for someone!
I have not personally tested the patches
Have a request? Glad to have them, kindly submit through GitHub.
---
Localizations: 🇺🇸 🇪🇸 🇫🇷 🇮🇹 🇧🇷 🇷🇺 🇩🇪 🇨🇳 🇯🇵 🇰🇷 🇳🇴 🇸🇪
SimpleLogistics is a Polyglot! It now twelve languages.
Additions and corrections solicited and welcome!
See the README in the Localization folder for instructions for adding or improving translations for languages other than English. GitHub push is the best way to contribute.
---
How to support this and many other mods by @zer0kerbal
---
Discussions:
See Discussions or KSP Forums for discussions and news on this mod
---
Installation Directions:
Use CKAN

Changelog Summary
See ChangeLog for full details of mod changes
Known Issues
See Known Issues for full details of feature requests, and known issues
Dependencies
Recommends
Suggests
Supports
Conflicts
Replaces
Tags
---
Kerbal Space Program 1.9.1 — Unity 2019.2.2f1 — .NET Framework 4.8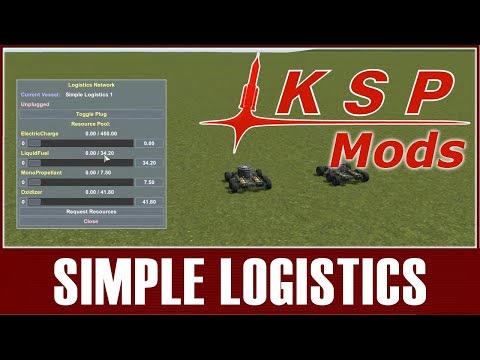 <details> <summary>Embedded Kottabo Youtube Video</summary> </details>
Credits
@MatterBeam for developing this mod
@RealGecko for adopting and continuing this mod
@linuxgurugamer for the toolbar/clickthroughblocker updates (and other things)!
@tinygrox for the localization implementation and the ZN-CH localization!
@fitiales for the Spanish (es-es.cfg) localization!
@malanok1 for the German(de-de.cg) and Russian (ru.cfg) localization!
@Lisias for the Brazilian-Portuguese (br-pt.cfg) localization!
@translate.google.com for French, Italian, Japanese, Korean, Swedish, and Norwegian localization (corrections solicited and welcome!)
---
Legal Mumbo Jumbo (License)
Current
Forum: Thread
Source: GitHub
License:

All bundled mods are distributed under their own licenses
All art assets (textures, models, animations) are distributed under their own licenses
Original
Thread
Download
Source: GitHub
License:

Be Kind: Lithobrake, not jakebrake! Keep your Module Manager up to date
v2.0.5.0 original: 11 Aug 2018 0K updated: 11 Aug 2021 zed'K

Stats for SimpleLogistics
Downloads over time
Downloads per version
New followers per day
Top Referrers
Export Raw Stats
Raw stats are from the beginning of time until now. Each follower and download entry represents one hour of data. Uneventful hours are omitted.